Losing cargo and theft is a long-standing issue in logistics security. According to the FBI's report, shipments worth $30 billion is lost each year due to theft and going missing, which has become a threat to the economy and caused crimes across the globe. The logistics industry has practised several methods to fight this crime, and biometrics is currently standing as the latest option in the sector. Biometrics stands for securing high-value cargo and authenticating customers to ensure that the luggage reaches its rightful hands; see how it is happening in the industry.
---
Biometrics IDs: to fight theft
Common cargo theft happens when dishonest drivers carry the cargo away. Each carrier can be issued with a biometric ID card while accessing a cargo room, and assigning a shipment will involve biometric authentication, ensuring who took the cargo. Since biometrics have higher throughput, this could achieve for every driver or carrier throughout cargo transit.
---
Biometric access control
The logistics industry handles sensitive and confidential cargo kept separately but within the premises only. In such cases, separate biometric access control facilities are used to eliminate security breaches. The same thing can use to lock containers that carry the shipments. Biometric access control will also help keep an accurate log of people who enter the premises and access the shipments.
---
Tracing luggage at airports
Alongside the biometric usage in boarding and immigration checks, it will also help to speed up luggage identification and delivery. Biometrics used for boarding will remain in the system throughout the journey period ends. Passengers' luggage can link to their biometrics while checking in. On the other end, the baggage will be delivered directly to the passenger without much delay by authenticating with biometrics. This system also strengthens paperless travel policies.
---
Delivery robots: the future of delivery
Covid 19 paved the way for us to push ourselves outside of our comfort zones to adapt to new technologies in many aspects of our lives. Delivery robots are one of the cutting-edge technologies that gained popularity across the globe during this time. Amazon, FedEx, and Alibaba have begun using these robots in the United States, France, and China. When people were maintaining social distance and quarantine, it was nearly impossible to continue home delivery service. Several online shopping businesses have pioneered the deployment of delivery robots and drones that reach the exact delivery location using GPS navigation.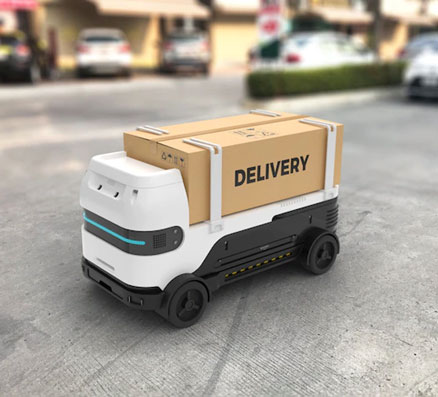 But the customer authentication with the robot is still passwords or OTPs. As throughput increases and robots spread to more cities, these traditional authentication methods are insufficient. Soon, the robots will leverage the smartphone biometric authentication to open the delivery robot. Also, robots may use inbuilt facial recognition cameras to identify their customers.
---
Conclusion
Paper-based tracking and PIN authentication may cause errors in transit. While biometric authentication can speed up and provide precise authentication, that will be helpful in high throughput applications like online delivery, airport luggage, and high-security shipment transit.
To turn a supply chain or delivery service biometrically supported, multiple biometric modalities may require for the implementation. Approach Mantra for any biometric device and solutions needs.