Government benefits and fund transactions have been made available to people through banks allowing direct transactions and avoiding the middle man. Though the banking transactions for daily wagers and migrant workers are significant in India, the average time needed to reach the bank in rural areas is 1.5 to 5 hours, compared to 30 minutes in cities. RBI, UIDAI, and NCPI joined hands to launch the Aadhaar-enabled Payment System (AePS) to improve financial inclusion in the country. AEPS can enable doorstep financial transactions, which might bring the underbanked segment of society into the banking mainstream.
AEPS is a financial transaction system that combines easy-to-use, secure, and Aadhaar biometric-based technology. To help overcome the digital divide, the government has used this innovative technology to establish the India Post Payments Bank (IPPB). The IPPB, which leverages AePS, aims to provide banking services to the unbanked. With the IPPB, people may conduct financial transactions through a nationwide network of post offices. Also, AEPS facilitates micro ATMs services which enable banks to reach people.
---
What is AEPS?
AePS is a bank-led platform that enables online financial transactions at the point of sale (MicroATM) utilising Aadhaar verification through any bank's Business correspondent. Citizens must first link their Aadhaar with their bank account and carry the necessary data to complete the online interoperable financial inclusion transaction. Necessary data a person should know;
Bank name
Aadhaar UIN
Capture the person's biometrics, either their fingerprint or iris.
Hence, AePS enables seamless transactions with just an Aadhaar number and biometric authentication, together with the security of UIDAI authentication. The AePS facility is used to disburse government pensions like NREGA, Social Security pension, Handicapped Old Age Pension, and so on, from any Central or State Government bodies. It offers all the banking services listed below:
Deposits and Withdrawals
Fund transferring
Balance enquiry
eKYC
Mini statements
BHIM Aadhaar pay
---
How to transfer money via AePS?
Business owners and small vendors can use AePS for daily money transactions. It doesn't require any payment card or app with the customer, just their bank name, Aadhaar number, and biometrics. A lot of mobile payment apps are now providing AePS facilities.
Steps to follow: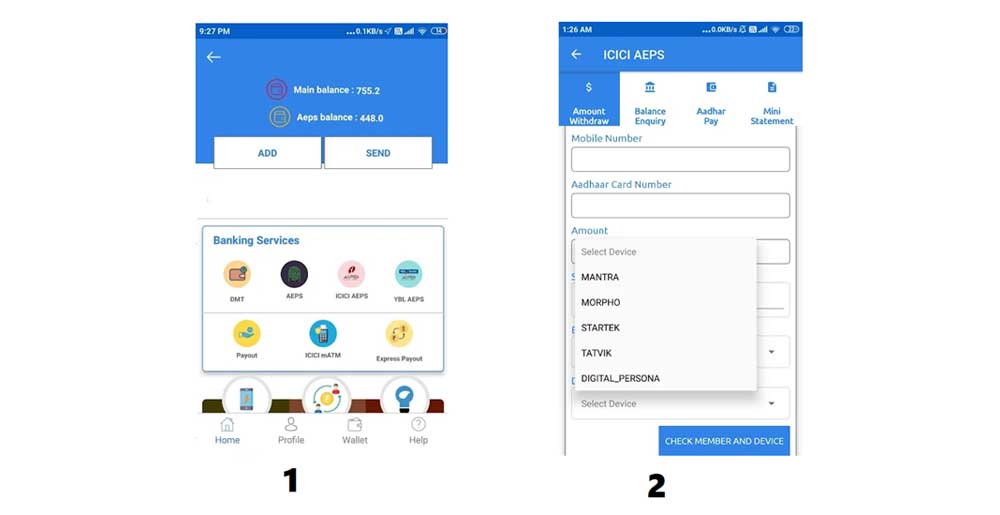 Open the AePS section on your payment app
Fill up the bank details, Aadhaar number, and choose the customer's bank
Enter the amount you need to transfer.
Select either the Iris or fingerprint sensor for biometric authentication.
Initiate the transaction after successful biometric authentication.
---
How to enable AePS transactions for your business?
If you own a business, you'll need a comprehensive and reliable device solution that accepts payments. AePS-enabled Point-Of-Sale (POS) systems are designed to make financial transactions safer by utilising biometric data. Our mTerminal100 is a specifically developed POS terminal capable of processing AePS transactions.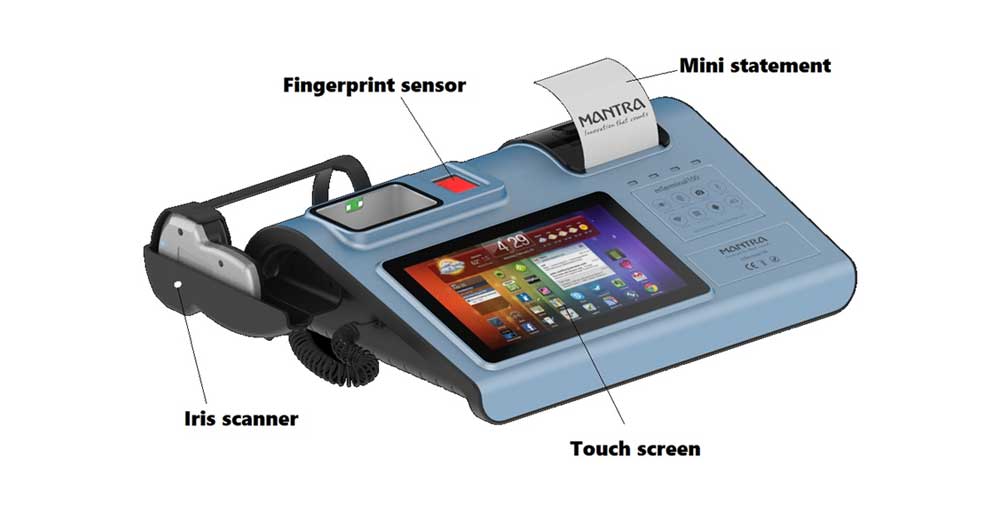 mTerminal100 POS device, a typical POS device ideal for AePS
The mTerminal100 has a fingerprint sensor, an iris scanner for identification purposes, an inbuilt printer to generate receipts and mini statements, and consumers can verify the transaction details from a digital screen. In essence, mTerminal100 is a micro ATM that allows banks to go to their clients rather than people going to banks. The mTerminal100 is ideal for use as an in-store POS device, a micro ATM for the banking industry, a POS for ration stores, and postal banking.
---
How to make AePS transactions through mobile phone?
The AePS system is also available in mobile payment applications. Through mobile applications, small vendors and delivery persons can benefit from AePS. A biometric sensor, either a fingerprint or iris scanner, must be connected to the mobile device for this to happen. We Mantra provide the MIS100V2-iris scanner and fingerprint sensors such as the MAPRO CX, MFS500, and MFS100V2, commonly used for AePS payment services, KYC applications, and Aadhaar enrollment.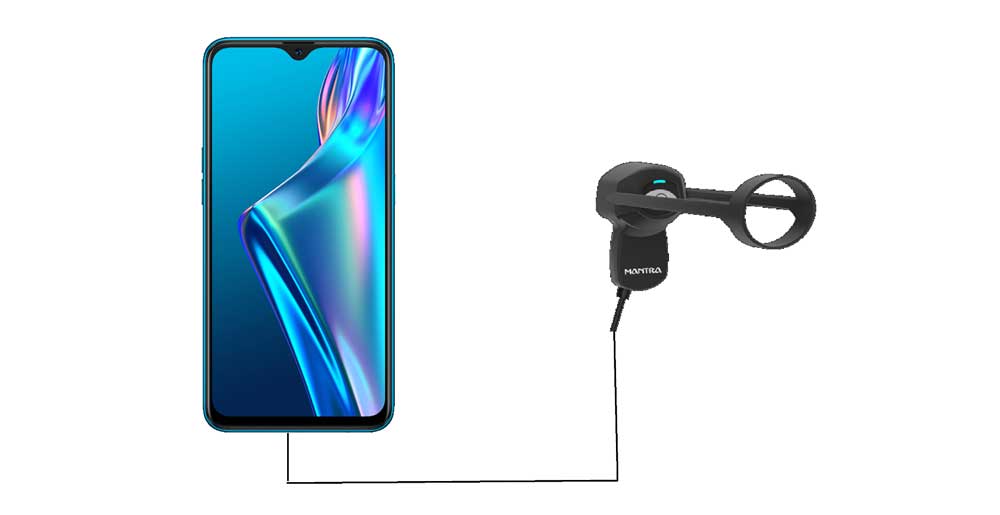 MIS100V2 iris scanner connect to smartphone to do AePS transaction
If you are a vendor with a smartphone, you can purchase our biometric sensors and connect them to your phone. While doing AePS transactions, the payment platform will prompt you to select an authentication method. If you have a MIS100V2 iris scanner, select iris authentication; otherwise, select fingerprint authentication if you have any of the fingerprint sensors.
---
Bottom line
AePS can bring the rural and underbanked people into the mainstream digital cash transaction. With AePS technology digital transactions can reach deep into the heart of rural Indian and can become the cornerstone of a cashless economy. Mantra has been an integral part of implementing the Aadhaar system since its inception. For any enquires and questions feel free to contact us at 079-49068001 or sales@mantratec.com