Common Service Center (CSC)
Common Service Center scheme (widely known as CSC) is an Indian Government-led initiative led under the "Digital India" programme. Introduced in 2006, the scheme aims at offering seamless B2C, G2C, & social services to the rural communities PAN India.
CSCs are the internet-enabled one-shop-stop service centers widely scattered across the rural province/remote areas of the nation to bring financial inclusion, encourage rural entrepreneurship, and digitization of social welfare schemes in villages.

Bridging the demand & supply gap, the GOI launched the CSC 2.0 in 2015, covering almost 2.5 Lakh Gram Panchayats (GP) throughout the nation to offer a wide range of services ranging from the internet navigation, DTP services to digital literacy training to the rural society.
---
Services Offered
The common service delivery outlets i.e. CSCs centers are making a range of the Govt. services accessible to the commoners for anywhere, anytime access to the public/private services, internet, and digital info. Currently, 52 central Govt. services are obtainable under the scheme with a total of 2.71 Lakh functional CSCs PAN India as of 31st December 2017. Key services provided through CSCs are:
Government to Citizen (G2C) services
Educational services
Banking and pension
Skill development
Business to Citizen (B2C) services
Utility services
Travel
Healthcare services
FMCG products
Agricultural services
Insurance
---
Eligibility criteria to start a CSC center
The participants have to undergo certain eligibility criteria in order to begin a new CSC center or become a VLE: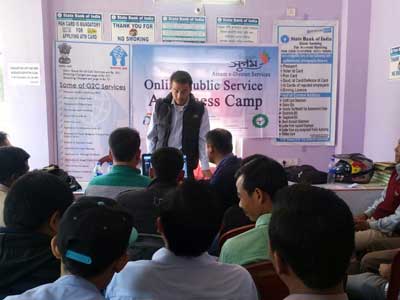 Qualification:- The participant must have passed the bar of matriculation level or equivalent exam.
Age:- A villager having attained the age of 18 years will be considered eligible to commence a new CSC center.
Other requirements:-Fluency in English reading and writing is a prerequisite. The person shall also have computer competence. The participant must have a valid identity proof like PAN/Virtual ID (VID).
---
How to register online for anew CSC center?
Anyone who satisfies the eligibility criteria and is willing to register for a new CSC center can apply online. The procedure for online registration is as follows:
Open the website www.csc.gov.inof CSC
Click on the tab titled "Interested to become a CSC" on the right-end side of the homepage (under the title 'Useful Links')
Now, click on the link named "Click Here to Register"
Enter the Aadhaar Card No. in the respective text box.
Now choose any of the identity authentication options from IRIS recognition/ Fingerprint scanning/One Time Password.
Press the "Proceed" button
(Based on the Aadhaar database, the participant's personal details linked with it will automatically be added.)
Upload CSC center's geo-tagged images.
Press the 'Submit' button.
Thus, the registration process comes to completion, after which an acknowledgment No. will be sent to applicants on his/her registered Mobile No.
---
Infrastructure required for opening a CSC center
The applicant willing to start a CSC center in his/her area shall look for the eligibility criteria first. If the participant is eligible, then he/she will need the following infrastructure for setting up a CSC center:
A building or room with 100-150 Sq. Ft. area
Two UPS PCs with Licensed Windows XP-SP2 OS or above with four hours of battery back-up/portable generator
A hard disk of minimum 120 GB
RAM with minimal storage of 512 MB
Color printers
Biometric fingerprint or IRIS scanner for identification
Webcam or digital camera
DVD or CD drive
Internet connectivity with a speed of 128 kbps for faster browsing and data upload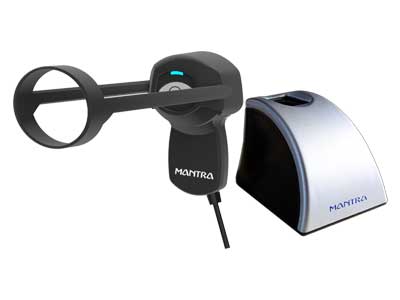 Utilizing Mantra's MFS100 – a high-quality USB fingerprint scanner and MIS100V2 – a powerful IRIS scanner for accurate individual biometric identification and authentication at CSC centers is highly recommended.