Top 6 Attendance Management Systems of 2020
Biometric attendance system has become pre-requisite for small-to-large scale enterprises, businesses, & organizations today as gone are the days when employees were asked to mark their attendance by filling out a paper timesheet or via traditional time-clocks.
In the digital era, enterprises & businesses are seeking for technologically advanced, smart, reliable, and digitized biometric attendance system. And if the attendance machine comes with biometric IRIS/fingerprint/facial recognition modalities, then it is considered to be the cream of the crop.
Since there are several fingerprint attendance machines on the market in 2020. To assist you in the task of choosing an ideal time-clocking system, we have come up with the top six biometric attendance system of the new decade:
---
MOXA7
For many organizations, time & attendance data is vital for HR applications, such as payroll and personnel management, while access control has a key role to play in the security of buildings. Mantra MOXA7 meets both these needs with a range of advanced fingerprint identification devices.
MOXA7 is the next-generation secure & precise biometric terminal that harnesses the power of biometric fingerprint technology for recording and monitoring the clock-in/out time of employees/staff.
Also, enterprises operating across multiple/remote sites face a major challenge in logging mobile employee's hours & tracking their attendance in real-time. Mantra solves these issues with a portable biometric fingerprint scanner device MOXA7, which delivers seamless biometric time attendance & access control solutions on the spot.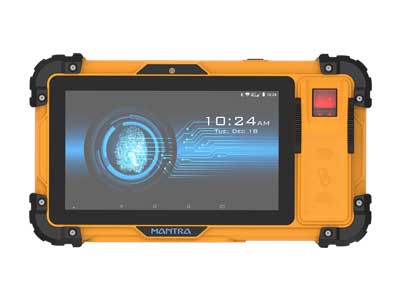 Features:
Shockproof rugged design
LAN/Ethernet connectivity
8000 mAH battery back-up
IP65 protection
SAM module for data encryption
GPS for location tracking
---
MFSTAB II
MFSTAB II is an STQC certified fingerprint tablet exclusively designed for Aadhar enabled Biometric Attendance System (AEBAS) for government employees. MFSTAB II offers flawless operation for AEBAS and can be utilized as a wall-mounted device.
This solely AEBAS machine does not support any third-party software, nor does it come with an SDK. The AEBAS functionality of MFSTAB II rules out the possibility of any customization in the OS as well. The device offers multiple connectivity options such as SIM support, Wi-Fi and Ethernet connectivity for smooth and uninterrupted operations.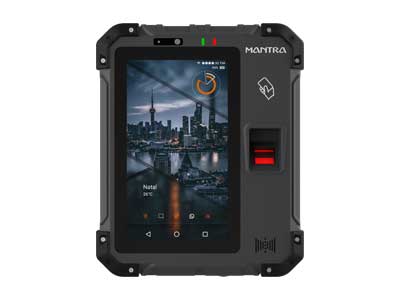 Features:
Contactless smart card reader
LAN/Ethernet connectivity
4000 mAH battery back-up
1:1 or 1:N fingerprint matching functions
Barcode reader with camera
microSD card slot supporting up to 32GB storage
---
MFSTAB 4G
MFSTAB 4G is one of the secure biometric fingerprint technology-based attendance devices. It is equipped with the STQC certified optical fingerprint scanner for Aadhaar Verification. Not only does it serve the purpose of recording employee's clock-in/out time but it also verifies/recognizes the identity of a person. This device has been engineered to simplify the ease of implementation and can be utilized as an attendance management system for various segments such as Banks, Government Offices, RTOs, Education, Sales Automation, and B2B.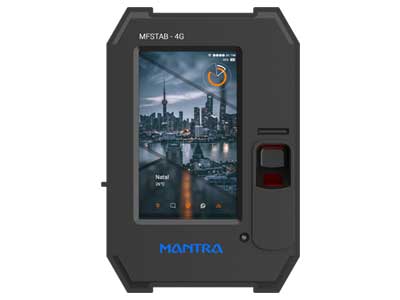 Features:
Compatible with Time trak & BioPay software
Tough casing protects device from drops & scratches
Wifi enables cable-less installation
In-built battery back-up ensures 99.9% uptime
Data retention in case of power failure
1:1 or 1:N fingerprint matching function
Rugged casing (optional) for shock absorption & better grip
---
MISTAB
In the case of faded fingerprint impressions, the latest IRIS technology-based attendance device proves to be a smarter choice for monitoring workforce time-clock. Mantra MISTAB biometric device is an integrated IRIS device equipped with a powerful IRIS Sensor. You can find this easy-to-operate device a valuable helper in time-attendance applications where capturing fingerprint is hard for instance, labourers' fingerprint gets fade due to the kind of work they do. MISTAB has compelling features to render you with a superior time management reporting.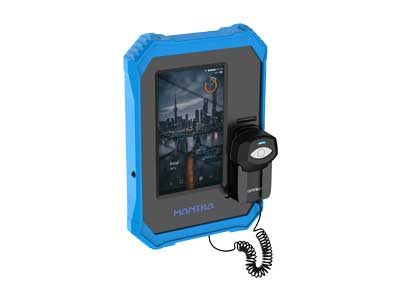 Features:
Lower FRR & FAR
High-resolution camera
1:1 & 1:N matching
Supports windows, Linux, & Android OS
STQC certified IRIS sensor
---
---
Mobile-based Biometric Attendance System
---
---
MFS100
MFS100 is a high-quality USB fingerprint sensor for fingerprint attendance system. MFS100 is based on optical sensing technology which efficiently recognizes poor quality fingerprints to mark employee's punch-in/out time. It is a compact, portable, and precise Aadhaar-enabled Biometric Attendance System (AEBAS).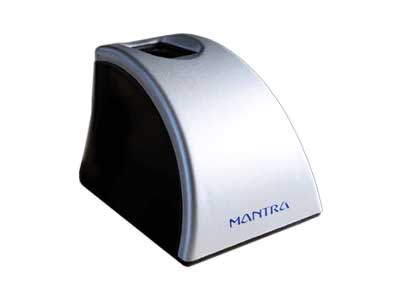 Features:
Supports Aadhaar auth API
Securely signs biometric data
UIDAI certified RD service
Plug & play USB high-speed interface
Scratch-free fingerprint sensor surface
---
MFS500
MFS500 is an easy-to-implement portable fingerprint attendance machine, which is easy to carry anywhere, anytime and can be smoothly connected to the tablet or system. The device is small in size, precise, and absolutely reliable for recording attendance of employees.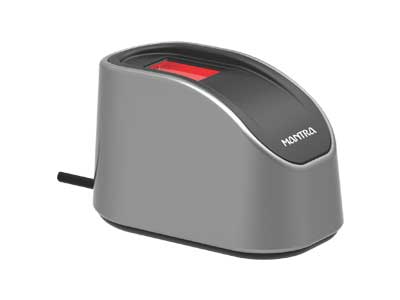 Features:
Optical scratch-free sensor surface
Supports multiple devices
Ergonomic design
Easy plug & play
Supports Aadhaar Auth API
---
To know the implementation cost of the devices, visit this link and to get more details on these next-generation biometric attendance machines, click here or get in touch with Mantra's representative at +91-079-49068000 Ext-2.