Imagine our children's lives in the future. He had just awoken from a deep sleep, and a face recognition camera identified his awakening. Immediately, a calendar displays on his wall-mounted tab, and a voice-over summarises his day's important tasks. It can say anything, blood sugar check he must do after breakfast, appointment at the bank, meeting somebody, etc. Later, after a warm bath, he opened his refrigerator to get milk and bread. His refrigerator only gives access to him because the fingerprint sensor mounted on its handle only knows him. He sits in front of the TV with his breakfast, and it recognizes him by reading his face; the TV instantly displays the new channel that he usually watches at that time. A notification showed on the screen informing him that he has fallen asleep while watching a Netflix show the day before; he may resume watching the episode. When he returns to the kitchen to get more milk, the TV halts the show since its face recognition sensed he is away. After his breakfast, he walks out to the parking lot, where he starts his car without a key—but with a fingerprint sensor-enabled ignition button. The house will observe him drive away through its facial recognition surveillance camera, and the vigilante mode will be on, watching what is going on around it. If the surveillance system senses a potential threat, it can alter him and the police. This is merely a glimpse of how the bio login will work in the future.
Because we've employed a future-oriented approach here, that doesn't mean you can't do it now. Anyone can incorporate a fingerprint module to the start/stop button of their electronic appliances and vehicles. Otherwise, approach companies like ours, attempting to provide futuristic home automation solutions for their clients. Here are some biometric technologies that could define the future of home automation because the home automation and security system market is estimated to reach $3.2 billion globally by 2026,
---
Biometric solutions for home automation
Fingerprint sensor for door locks and appliances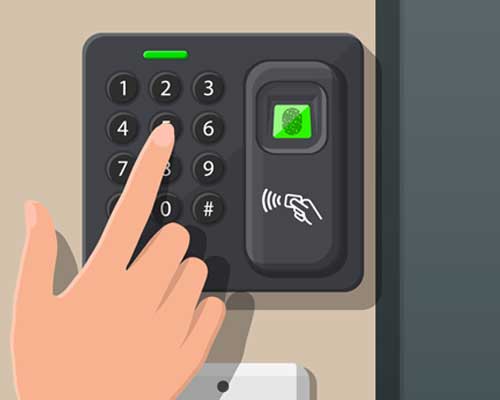 Fingerprint sensors are compact and easy-to-use biometric identifying sensors that can easily be integrated into many electronic appliances, door locks, and switchboards. Digital door locks are already a trend in home security solutions, but fingerprint sensors can be used in other ways.
Fingerprint sensors can be used to lock electronic appliances such as refrigerators, washing machines, televisions, and so on, allowing only authorized users to access the devices. The same approach can be applied to switchboards, power switches that control water pumps, outdoor switches, and switches that control heavy machinery.
---
Face recognition in home security
The CCTV camera implemented with the doorbell is not a new technology; the system captures the live video of the person standing at the door and transferred to the screen inside the home. However, face recognition is revolutionizing the system by detecting the person at the door that can be his wife, friends, parents, children, or local criminals. Even if the house owner is on the other side of the planet, the system will send him a message such as, "Your friends at home or parents are visiting, or kids are back home."
Face recognition cameras are used in-room climate control. By detecting people as they enter a room, the system may automatically adjust to a preset temperature for each individual.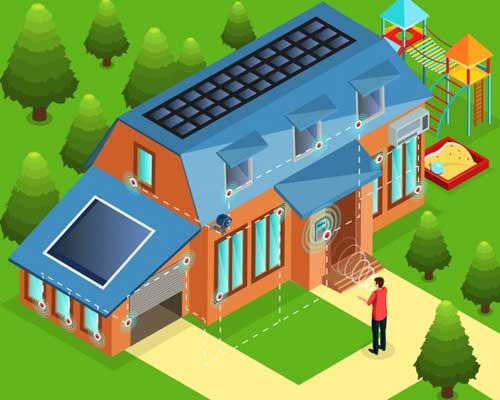 ---
Iris scanner for maximum security
Iris scanners can be used to secure items such as electronic wallets, laptops, cabinets, and so on for utmost security. Since the iris is the most accurate biometric authentication method, iris recognition control systems can safeguard sensitive documents and assets.
Also read: 5 Benefits Of IRIS Recognition Technology
---
Parental control
Parental control is an integral part of home automation solutions. Some or all of the technologies discussed above can be utilized for parental control.
Watching kids: Facial recognition cameras can watch kids while they are within the house premises. The camera system can alert parents when kids get up from bed (alert: your kids are awake) and when it detects faces other than the kids while parents are out of the station. It can also send alerts whenever children use electronic devices or open the main door or gate.
Restricting Kids: Parents can limit access to electronic appliances and rooms using biometric devices. Children can be prohibited from using the office area, vehicle porch, and pool section without parents' permission. Similarly, biometric devices can be used to restrict children's access to the television, washing machine, stove, or any other electronic device.
---
Bottom line
Like smartphones, TVs, biometric home automation won't be a luxury in the near future; it will get dissolved into people's daily life. Fingerprint sensors at door locks are becoming a norm. The movement has come to take small steps towards biometric home automation solutions. Mantra provides an end-to-end solution in biometric, RFID-based, and security access control solutions for all types of premises, homes, offices, corporate buildings, etc. For inquiry, call now at 079-49068000.