Biometric Identity System at Airport for Seamless Passenger Experience
We are entering into the future envisaged by science fiction where passengers will no longer be required to dig into their pockets or purses for boarding tickets or identity card to board on a flight. Standing at the edge of the digital frontier, airports & airlines world-wide are adopting advanced biometric technology to verify travellers' identities.
Employing biometrics in the aviation industry not only enhances security but also improves the operational efficiency at airports. As per the SITA reports, conducted in the year 2018, the next-generation biometric scanning systems will take off nearly 71% airlines and 77% airports within the next five years.
Biometrics has a lot to offer airlines, airports, and travellers from immigration gate, boarding gate to access terminals at different places. This innovative technology is revolutionizing airports and customer journey in multiple ways as follows:
Identity Checks during Arrival & Departures at Immigration Gate
With biometric scanners installed at the immigration gates, there is no longer a need for travellers to carry paper-based passports because the future passport will be their fingerprint, face or eyes.
Identity checks deploying self-service biometric systems and automated border control gates simply smoothens the arrival and departure experiences of passengers at airports. Additionally, advanced biometric systems can create travel-event records for each transaction to help identify entry/exit mismatches and passengers' overstays.
Intuitive and user-friendly identi fication process
Highest in class security with biometric authentication
Simple installation, setup and integration with higher-ranking systems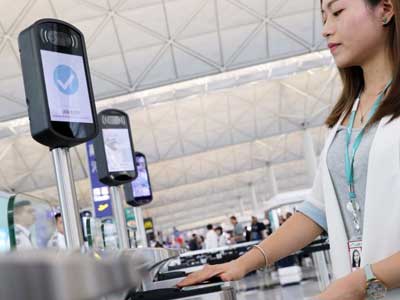 Security Check during Boarding Process
Logging entry of every traveller manually is time-consuming and involves a high risk of fraud. Hence, implementing biometric technologies are just one of the secure and efficient ways airports are seeking.
Enactment of biometric scanner devices at airports makes it easier for the passengers to board the aircraft without much hassles and the intervention of security staffs. The automatic checking of boarding passes also relieves the security staff of routine tasks so that they have more time for passengers who need assistance.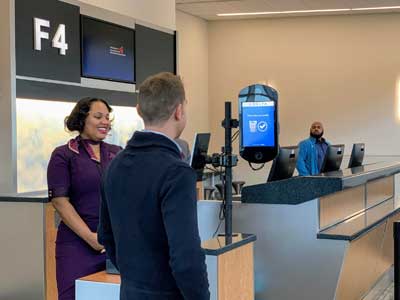 During check-in, an image of passenger's face, fingerprint or IRIS is captured and this is used to create a secure token, using biometrics linked to the passenger's travel documents. Once they reach the boarding gate, passengers board via an automated gate that uses facial, fingerprint or IRIS recognition to match their face to the image taken at check-in.
Simple identi fication by placing the boarding pass on the reading device
Easy installation and straightforward maintenance
Access Control at Different Terminals
Multiple biometric solution providers like Mantra are designing advanced access control solutions, mainly for places like Airport where the cost of a security breach is very high.
Biometric technology provides ease of con figuration for access to passengers/travellers in the designated areas only at the airports. Unauthorized persons or travellers can't avail access to the region where he/she should not reach or roam.
Beneficial Impacts
Securely identifies travellers
Improves national security
Detects counterfeit or manipulated documents
Protects individual privacy
Eliminates fraudulent application and duplicate passport issuance
Additional layer of security
Increased overall efficiency
Speeds up passengers' processing at the airports
Recent Applications
Biometric ID management program has been implemented successfully by multiple airports/airlines across the globe, including Bengaluru International Airport, British Airways, Metropolitan Washington Airports Authority, Lufthansa, Delta Airlines, and the list goes on.
Realizing how biometric technology is transforming customer experiences, some of the airports have started conducting trials of the ground-breaking facial technology, including Brisbane, Sydney, Heathrow, Atlanta, and many more airports.
According to SITA reports, fingerprint and facial recognition trials conducted at different airports across the globe have reduced travellers check-in or boarding time to 70%.