Experiencing the intricacies in monitoring and controlling attendance with the manual methods, the government offices & private organizations/enterprises have shown interest in adopting the cutting-edge technologies, especially with employee attendance systems that result in a productive and persistent work environment.
With the evolution of advanced techniques and the rising necessity for tracking an individual's attendance in real-time, user-friendly cloud-based technology has emerged as an open-ended platform for enterprises by offering on-demand and easy access to attendance software.
Cloud-based Technology – Overview
The term 'cloud-based' denotes the reserve of shared resources, Apps, or services made accessible to the consumers/clients whenever and wherever they require it utilizing the Internet. Cloud-computing is, in fact, an open-end platform on which businesses or organizations runs its software or applications on a third-party server for real-time access and flexible operations.
The generation of cloud-computing technology sprung since the year 2006, as soon as Amazon pioneered primary cloud-based services named Simple Storage Service (S3) & Elastic Cloud Computing (E3).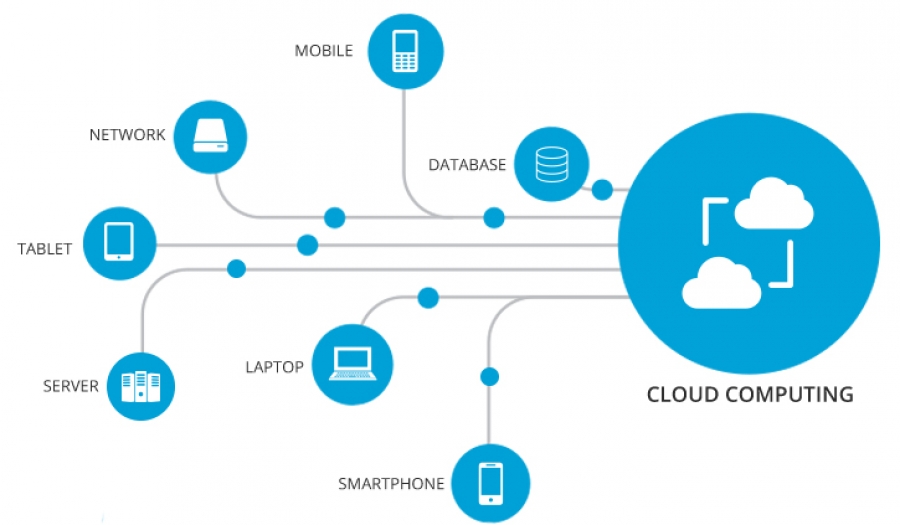 An intact objective behind developing technology such as cloud-computing is to transfer every single thing to the cloud server to enable end-users to store, manage and process data remotely rather than being physically present at a particular location.
The cloud-computing system consists of two types of cloud models, namely, Service Models and Deployment Models. The service models further comprise of three models:
Infrastructure-as-a-service (IaaS)
Platform-as-a-Service (PaaS) and
Software-as-a-Service (SaaS)
The Internet-based email apps are an excellent instance of a cloud-based mailing system that facilitates the consumers with an ergonomic platform to transmit electronic messaging services.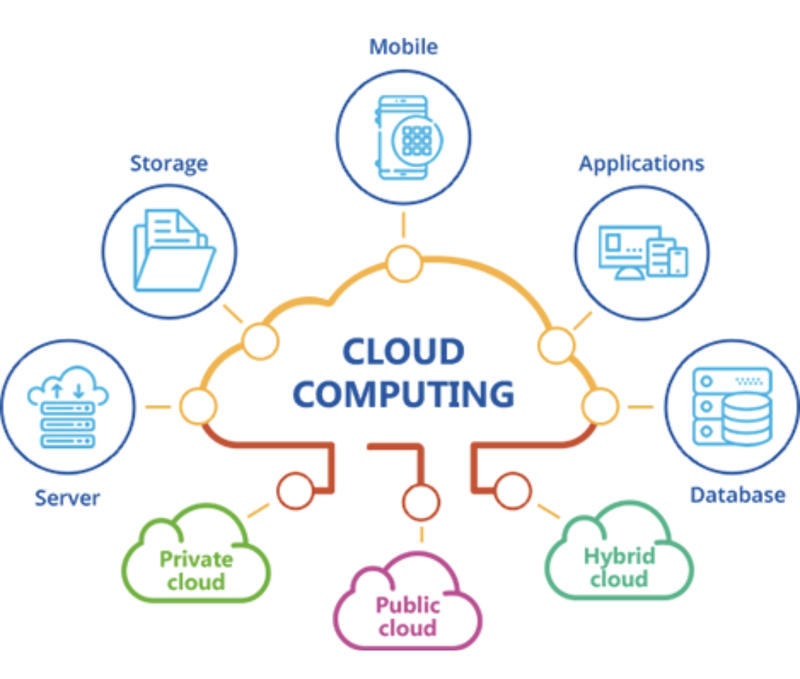 What is Cloud-based Attendance System?
The cloud-based attendance system is nothing but cloud-computing technology based time-attendance management software that stores the attendance data/records of users/employees over a cloud server. The cloud server enables an admin or HR manager to retrieve or access attendance related data of users/employees at anytime, and anywhere remotely from the cloud database.
Whether the users clock-in or clock-out via biometric attendance system, smart cards, mobile applications, or any other mode, their data will be immediately sent and stored on the cloud-based attendance software. Subsequently, the system will automatically compile the data into a broad range of reports, including attendance & payroll records.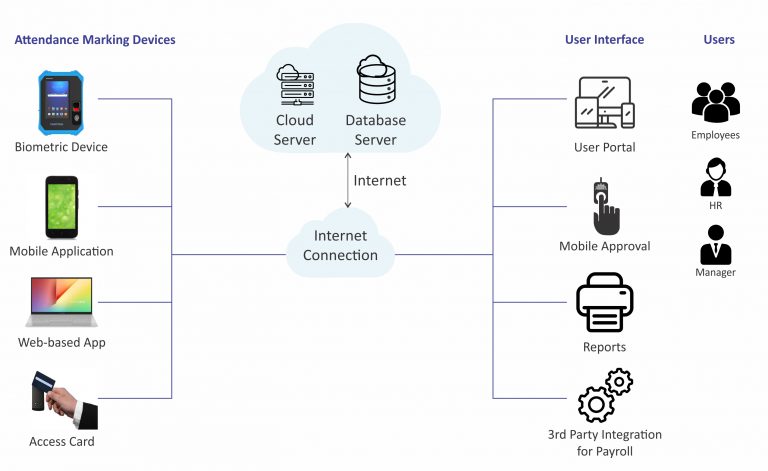 For enterprises and businesses, managing employee time-attendance for numerous departments and other branches at distinct locations is crucial and relatively challenging. At times, the task of capturing attendance data of every employee, maintaining and automating them becomes exceptionally tedious.
Thus, the necessity for an open-ended, automated and extensible time-attendance management system leads organizations/enterprises to move towards cloud infrastructure by utilizing the cloud-based time-attendance software.
Benefits of Enacting Cloud-Based Time Attendance
The cloud-based attendance system will be a massive shift from the conventional way of managing time-attendance. With excellent operational efficiency and a centralized data handling service, the modern-day cloud-based time-attendance system proves to be a considerable asset for organizations to modernize and automate their attendance management process.
Scalability: As the next-generation cloud technology allows an operator to access the data from anywhere, and at any time; it offers an evolutional attendance management solution to large and complex organizations having numerous locations or large hierarchies.
Flexibility: The cloud-based attendance system presents flexibility with reference to wireless connectivity to upgrade and monitor attendance management system from a remote location efficiently.
Intuitive: The cutting-edge cloud technology allows employees and HR manager to mark and approve the clock-in/out time from anywhere via any internet-equipped device, respectively.
Enhanced Security: With advanced features like multi-layer data encryption, superior protection; back-up, archival, and retrieval functionalities, the cloud-based attendance system can assist an HR department in managing user's entry based credentials securely.
Ease of Use: The cloud-computing technology eliminates the need of utilizing multiple servers, and hence the cloud-based attendance system removes the complexities of maintaining the data on a single scalable server without any need of installing additional hardware or software.
MINOP – An User-Friendly Cloud-Based Attendance System
MINOP is a brand from Mantra Softech, specialized in the design and development of cloud-based time-attendance systems, providing real-time access to the employees' punch-in/punch-out data. MINOP is a modern-day time and attendance management software running on cloud-based technology that does not require the environment to manage and update the system.
MINOP is an ideal and dynamic SaaS-based attendance solution that gives the Hr department, managers or admin the power to process even the complex time-attendance in just minutes.
Features of Cloud-Based Time Attendance Software MINOP
Real-Time Attendance Monitoring via any Internet Connected Device
Centralized Data Management
Immediate Notifications on Anomaly
Efficient Leave Management
Easy to Set-Up
Various Report Generation
Third-party Integration for Payroll