Facial recognition system in banking sector
Since the onset of the digital revolution, the advance facial recognition systems have been gaining traction in the banking and financial sector, with an increase in the number of financial frauds based on the identity of an individual.
Why it becomes crucial for the banking and financial sector to embrace facial recognition technology? Well, according to the Experian India 2016 reports, India accounted for around 77 percent frauds based on identity theft out of the total number of fraudulent cases recorded in the first quarter of the year 2015.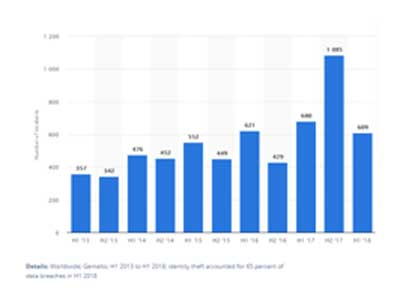 There has been a surge in the banking frauds based on identity cloning/theft. Some of the common types of banking frauds based on identity are listed underneath:
Fraudulent signature for in-person money withdrawal
Access to the locker room with a fake signature (identity)
Risk of impersonation at ATMs and many more
To curb these fraudulent activities, based on the crime of the new millennium i.e. identity theft and offer secure, transparent, & personalized banking services to the customers, the next-generation technologies like biometric facial recognition, AI, and blockchain are making its way into the banking sector.
Here are the top five applications of facial recognition systems in the banking and financial sector:
---
1. Bank Branches and ATMs
As the banking institutes and ATMs struggle to combat identity fraud, they stand in need of a robust security system to accurately identify/authenticate customers visiting bank branches & ATMs to avail banking services. Thus, the fintech institutes worldwide are embracing an advanced facial recognition system to enhance their banking security by identifying/authenticating customers using their facial features.
This year, Spanish bank – 'Caixa Bank' and Japan's 'SEVEN Bank' introduced ATMs equipped with contactless facial recognition technology in an effort to reduce the fraudulent attempts, strengthen the reliability of ATM transactions, and avoid unverifiable transactions from wrong users or someone wearing a mask.
Consequently, the pioneering face recognition system assists bank branches & ATMs in:
Enhancing the banking service quality,
Providing seamless experience to customers,
Shortening queue at the counters (in bank branches) and ATMs
Increasing accuracy and speed of user identification & authentication,
---
2. Self-service kiosk for customers
The groundbreaking biometric facial recognition based self-service kiosk machines can be positioned at fintech institutions to carry out frictionless self-service banking activities like passbook and account statement printing, deposit cheque, check account balance, open a bank account, etc. by authenticating customers based on their account number and live facial image.
---
3. Customer KYC
Utilizing a facial recognition system as an identification mechanism, banks can carry out a secure and seamless customer on-boarding/enrollment process. Several banking institutes across South-East Asia are unveiling revolutionary facial recognition system to perform flawless customer KYC verification processes while protecting against the identity-based frauds. Banks in Thailand are ushering in the biometric facial recognition technology for customer KYC as a part of the broader shift towards the smart bank branch model.
---
4. Customer Relationship Management
An intelligent facial recognition system offers the banking & financial an opportunity to improve customer relationship management, to deliver more satisfying and personalized customer experiences, taking utmost care that the VIPs and patrons receive the preferential treatment they desire.
---
5. Mobile Banking
The mobile banking frauds are growing at a blistering speed in India. As per RBI's 2017-18 Annual report, the country witnessed a 92 percent growth in the volume of online transactions and 13 percent in the value of transactions from 2017 to 2018. With such outgrow in mobile banking associates immense financial risks and banking threats posed by online hackers. To prevent the online fraudsters, facial recognition systems are designed smartly with innovative live image capturing and detection features for accurately identifying & authenticating consumers using their live facial images, accounting for an additional layer of security.
---