How to Clean Biometric Sensor?
Fingerprint sensor which is oftentimes perceived as a fingerprint scanner or reader in the market is a biometric device that records the fingerprint impression/image of anyone in a digital format. The fingerprint sensor is employed for error-free, efficient and reliable verification, validation or authorization operations. It is indispensable to keep the scanning area or surface area of a fingerprint sensor/scanner clean and devoid of scratches for effective image capturing.
If your fingerprint device's scanning area or surface is stained, greasy or unclean, then you may get to grips with difficulty in recording the fingerprint impression of a personage. Hence, desirable clean up of the sensor surface area is obligatory for trouble-free maintenance and superlative implementation. Let us have a look at the drawbacks and the reasons for the downside along with perceiving the step-by-step cleaning approach of the surface area of a fingerprint reader/scanner.
Which Factors Demand Cleansing of the Fingerprint Sensor Device?
Multiple factors can cause the fingerprint sensor device to get grubby and greasy in an unexplainable manner. The reasons behind an inefficient scanning outcome can be anything ranging from susceptibility of the surface area due to moisture, viscous liquid, lubricant or moisturizer, sweat and parched skin to various other things present on the fingers of a user.
The necessity for cleaning up the fingerprint device arises when the surface or sensing area is not being able to capture the image efficiently. There may be scratches, residual dust particles or any other foreign substances on the surface due to regular utilization and hence you shall cleanse your device for proper functioning and maintenance.
Steps for Cleansing the Fingerprint Sensor Device
Let us look at the procedure that shall be followed while cleansing the fingerprint sensor device. Keeping your biometric fingerprint scanner device dirt-free will allow you to increase the longevity of your device and enhance its performance.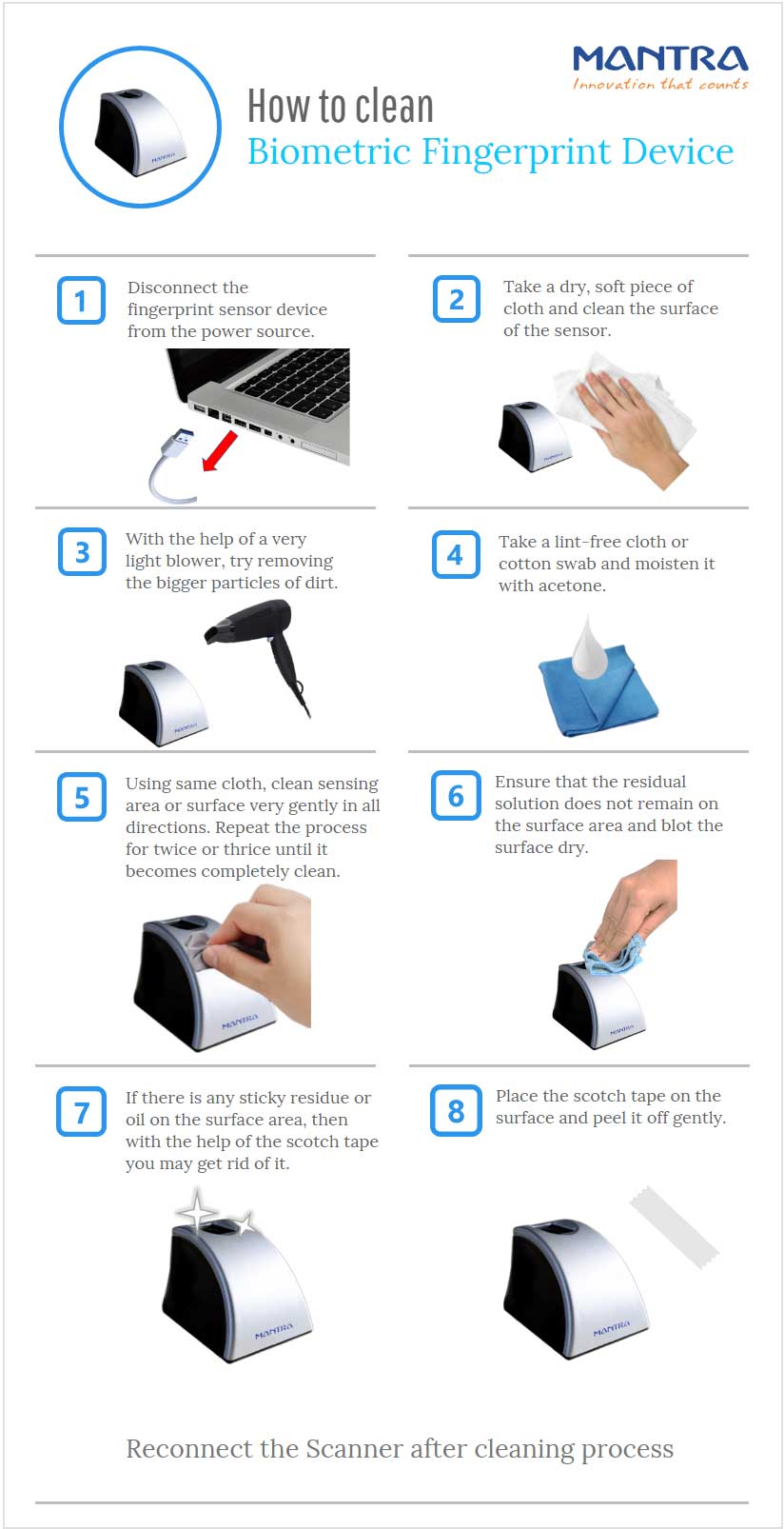 The cleaning process is complete and now you may reconnect the fingerprint sensor device with the power.