The government of India has stepped the Pradhan Mantri Ujjwala Yojana (PMUY) scheme to the second stage, which will benefit ten crore families. The initiatives will help family women who come under BPL (Below Poverty Line) receive LPG with subsidies every month. The government has also announced the distribution of low-cost LPG stoves through oil and gas agencies.
To ensure only the eligible get these benefits, the government has strengthened the KYC procedure for the LPG customers. Customer KYC has been made essential for gas distribution companies under the new laws. This procedure eliminates the de-duplication of LPG connections by Oil Marketing Companies (OMCs) to guarantee; no more than one residential LPG connection from any of the distributors exists in the same household. As per the rules, only one cylinder can be issued to a house with subsidies.
---
How does the biometric KYC will work in LPG distribution?
Gas distributors must collect a filled KYC form with the Aadhaar number. In addition, distributors must provide a biometric authentication device (fingerprint sensor) to authenticate the customer to update KYC or set up a new connection. The distributors must send the scanned fingerprint with the Aadhaar number and other details to the PMUY website for verification. The website will who are eligible for subsidy.
A distributor can only sell one cylinder to a consumer that qualifies for a subsidy. A customer can purchase more than one cylinder, but a subsidy will be available for one cylinder. If a client buys an extra cylinder, the system will notify the distributor while performing authentication via the fingerprint sensor. The subsidy price will not be refunded to the customer's account.
---
Choose your biometric KYC partner for LPG connection here:
Reliable
Accurate
Scratch proof
Secure
Good connectivity
Durable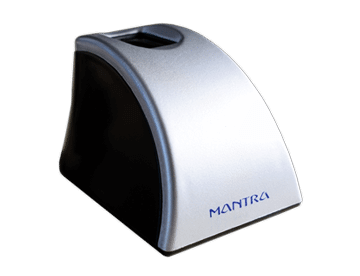 MFS100 is a fingerprint sensor from Mantra Softech with a proven track record. MFS100 is widely used for government programs like Aadhaar, Ayushman Bharat, Apna CSC, Jeevan Pramaan, and NDLM (National Digital Literacy Mission). Now, it's the turn of LPG distribution in which MFS100 will can correctly authenticate customers. Mantra Softech is one of the leading biometric companies globally; our products are recommended by institutions such as IOCL, BPCL, HPCL, etc.
---
Special features of MFS100
UIDAI Certified RD Service & PID Block Encrypted within RD Service
STQC certified by the Ministry of Electronics and Information Technology
Lowest FAR and FRR (False Acceptance Rate and False Rejection Rate)
500 dpi optical fingerprint sensor for high accuracy
Supports Windows 7,8,10, Windows Vista, Windows 2000, Windows Server 2003/2007/2008, Linux, Windows ME, Windows 98 SE SDK, Libraries, and Drivers support across all above platforms.
---
Get your biometric fingerprint scanner now:
If you are interested in purchasing our product-MFS100, you can do so by clicking on the below-given links.
Buy from Mantra's Portal: Click here
Buy from Flipkart: Click here
---
How to do the KYC procedure to link Aadhaar with the LPG connection?
Adult women of a family who wants to apply for the subsidy must fill-up the KYC application form with details like Photo, Address, Aadhar No, Bank Account No. and family details. The oil & gas company would work with UIDAI to get the Aadhar cards verified. LPG subsidies will be given to eligible recipients once the procedure is completed by processing all PMUY applications through a dedicated web portal. The same process is followed to update the KYC of existing customers.