Video KYC is all set to become a substitute for the physical verification process.
In January 2020, the Reserve Bank of India (RBI) has allowed Video-based KYC aka Video-Based Customer Identification Process (VCIP) for on-boarding the customers. This is an advanced method for doing KYC as the customer does not need to remain physically present at the finance institution.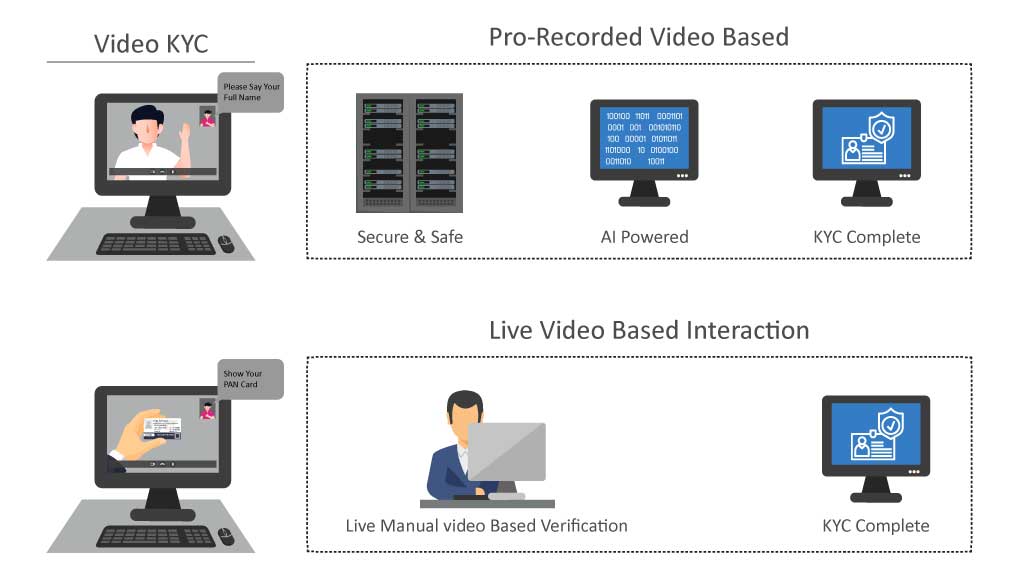 A video KYC shall be helpful for the banks and other financial institutions to verify the identification of the customer by validating the document details submitted through the video recording. The process can be carried out on both the mobile operating systems i.e. Android and iOS. During the interaction with the company's representative through the video recorder, the customer is required to show his original documents such as PAN card, Aadhaar card, Address proof, etc. This new facility of Video KYC looks effortless at the customer's end but at an institutional level, implementing the VCIP with its existing system has its own complications, but system integrators like Mantra can provide VCIP modules for seamless integration with the existing systems of BFSIs.
---
What is the purpose of V-CIP?
The motive behind this whole exercise of V-CIP is to reduce the infrastructural cost and limit the dependency on physical verification. This process of KYC will ensure the individual's geo-location to confirm his/her presence in the country, along with the authenticity of possession of all the identity-related documents, eliminating the possibilities of impersonation. The utilization of Advance Artificial Intelligence (AI) or Facial recognition system for the Digital KYC (D KYC) maintains an excellent standard of trust and compliance, without compromising on user experience.
---
What are the advantages of using this technology?
V-CIP verifies individuals using Optical Character Recognition (OCR) and is done in real-time.
This entire process of V-CIP is very convenient. All that the customer needs is a smartphone or a tablet with internet connectivity.
High on precision and eliminates the chances of human errors.
Geo-tagging provides accurate results of the location of a customer proving one's whereabouts in India a measure of security from potential online money-laundering.
Cost and time-saving.
Supports identity-related documents such as Aadhaar card, PAN Card, Driving License, Voter ID Card and Passport.
Minimizes the risk of fraud and submission of forged documents.
The same V-CIP can be used for multiple things such as opening a fixed deposit, application for loans or credit cards, etc.
Onboards customers extremely fast using AI.
---
What are the applications of V-CIP?
This AI-based innovative technology can be used for Banking & Financing Sector. Some of the techs from the mutual fund sector have already implemented video KYC for account opening and onboarding with an optimal success rate.
Also, fintech and Digital wallet companies adapting the facial recognition technology through Mobile app not only will improve the authentication quality but also reduce the client acquisition cost.