Top 5 Applications of Biometric Technology in the Banking Industry
With the world experiencing a wave of digitization, it becomes significant for banks to bring data privacy (i.e. security) with convenience (i.e. accessibility). As the digital age expands, the financial institutions require to bring a greater level of security for customers along with accessibility by infiltrating biometrics in banking sector.
With technological innovations, long gone are the days of standard passwords as banks all across the world are enacting the revolutionary biometric identification systems. Biometrics has various applications in banking like Micro-ATMs, KYC, payment authentication systems, etc.
Listed underneath are the five major banking applications of biometric technology:
1. KYC
Know Your Customer (KYC) is one of the significant on-boarding steps for banks to identify their customers/account holders to make sure that banking services are not misused. The financial institutions of multiple countries are now conducting the KYC procedure of their customers using biometric identification technology, making the process more reliable, efficient, and user-friendly.
However, with the rise in cases like identity fraud, banks must collect the biometric data of customers to verify their identity before accessing financial services. The Indian banks conduct an instant eKYC of customers, based on their Aadhaar & biometric details such as fingerprint or IRIS after seeking their prior consent of utilizing these details.
2. Micro-ATMs
Biometric-based Micro-ATMs are a modified version of a point of sale (PoS) device, on which users can place their fingerprint or IRIS for making payments to merchants/vendors as the device connects the bank's core system with it.
To bring financial inclusion, GOI under the Aadhaar-enabled Payment System (AePS) extends Aadhaar & biometric-based banking services to the citizenry through biometric (fingerprint/IRIS) Micro-ATMs.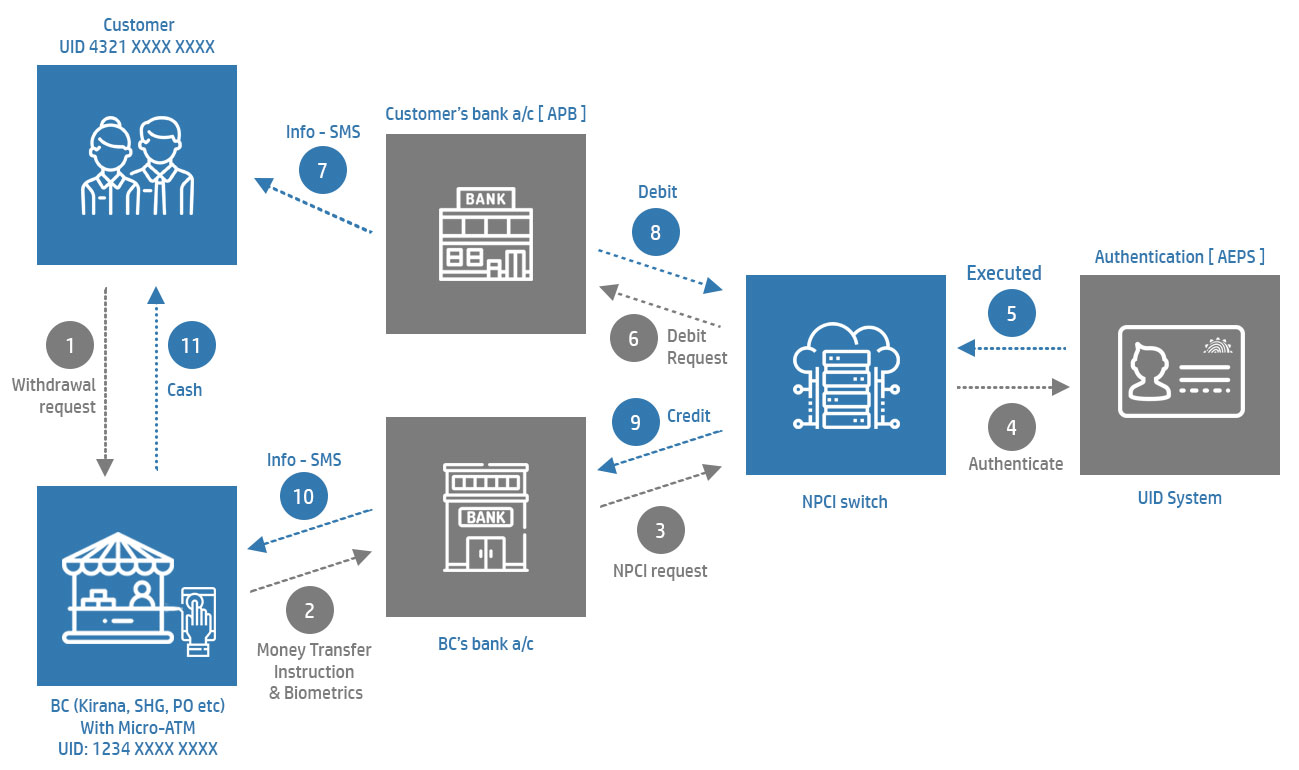 Biometric-enabled POS devices are also extensively utilized as Micro-ATMs to extract information regarding a user, allowing him/her to dispense & deposit cash, check the account balance, initiate fund transfers to other banks in a more secure way through Aadhaar Pay transactions.
3. Merchant Payments System
The merchant payment systems have emerged as an efficient, reliable, and convenient mode of banking for customers not able to access banks or want to purchase goods/services in a cashless form.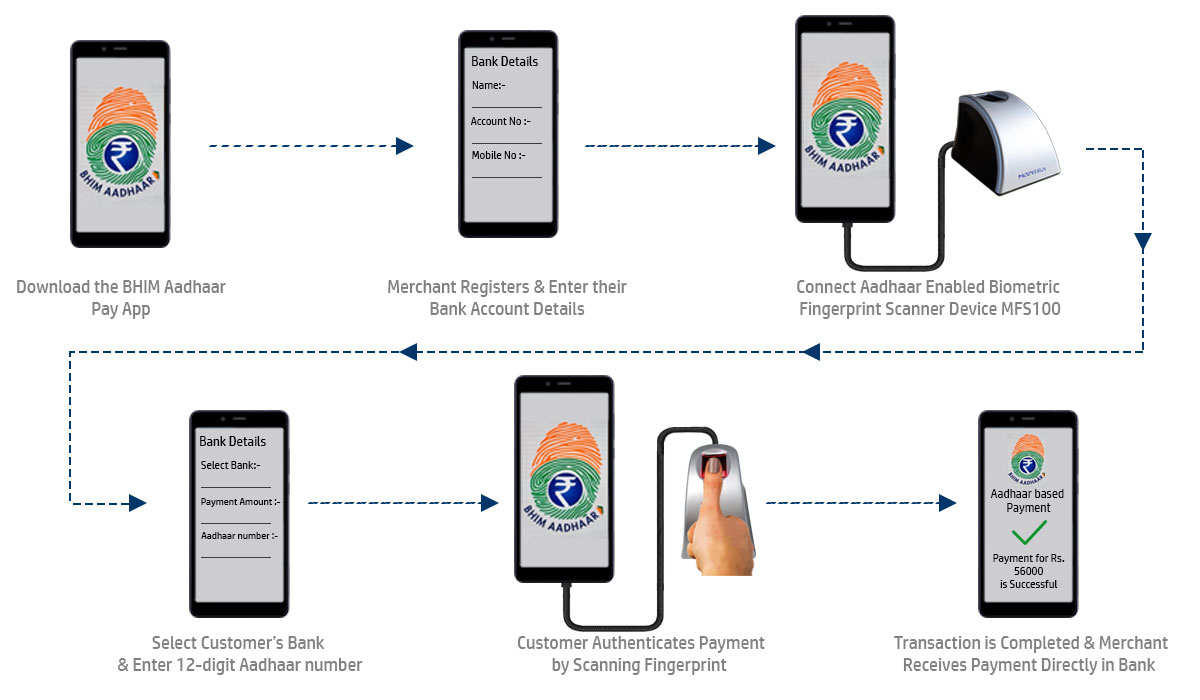 Mostly, the rural & semi-urban districts of India are experiencing a lack of electricity or accessibility to the banks. Thus, to ensure the accessibility of banking services to the rural population, merchant payment systems have been made possible to them through Aadhaar-enabled biometric micro-ATMs or merchant applications like BHIM Aadhaar Pay.
4. Attendance System
Biometric technology is not just limited to offering transactional security with convenience to customers but also can prove to be an efficient attendance solution for banks & other financial institutions including NBFC.
The conventional practice of marking employees attendance in the attendance register elicits the malpractice of buddy punching, brings inaccuracy, lack of security, generates errors, etc. Additionally, the customers' compliant of banking officials not present in the branch, lured the need for implementation of a biometric-based attendance system to ensure the availability and punctuality of bank employees in banks.
Looking at the following advantages of biometric attendance system, the banking and non-banking institutions are turning towards its adoption.
Accurate personnel attendance through identification
Prevent buddy-punching
Maintain punctuality of staff
Eliminates time-theft
Easy and efficient payroll integration
5. Payment Authentication System
Nowadays, with increasing digital frauds, consumers do not have confidence in sending money digitally. To avoid fraudulent transactions and gain the trust of customers/account holders, the Indian banking sector is incorporating biometric devices to authenticate the payments.
The advancement in payment authentication system includes payments via mobile apps and digital wallets, which involves the step of verifying the identity of consumers with biometric authentication.
With the inclusion of fingerprint and IRIS recognition techniques in payments through Aadhaar pay transactions, banks are paving a way for reliable payment systems in India.