Aadhaar: Advancing From Fingerprint to Facial Authentication
UIDAI - an Aadhaar issuing-body, intends to step towards face recognition (a supplementary biometric modality) for seamless authentication of Indian citizenry utilizing Aadhaar. In the upcoming years, the facial biometrics will be combined efficiently with the pre-existing biometric fingerprint/IRIS verification, acting as an advanced security factor.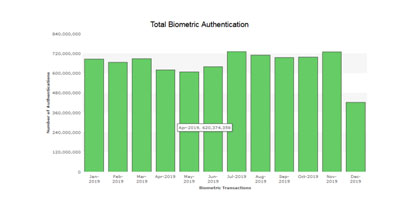 However, so far, more than 3600 Cr Aadhaar authentications already have been performed by myriad Authentication User Agencies (also known as AUAs) PAN India out of which 2629 Cr are biometric (fingerprint/IRIS) transactions. The utilization of facial recognition will assist in ameliorating the Aadhaar verification rate by accurately authenticating those individuals who are unable to verify themselves using fingerprints including elderly persons, children below 5 years, or manual labor workers.
---
How Aadhaar face authentication system will work?
Aadhaar-based face biometrics is fairly easy to comprehend and utilize. The following steps show how face-based Aadhaar authentication will work:
Individuals reckoning face-based Aadhaar verification/authentication shall stand before registered face recognition machine for a live facial image capture, on-the-spot.
Now, besides an individual's Aadhaar No. and fingerprint/IRIS image data, the captured facial biometric data will then be sent to AUAs for gaining access to the Aadhaar authentication facility.
Further, it will be transferred to the Authentication Service Agency (abbreviated as ASA) to connect to the CIDR and transmit authentication requests from AUAs to CIDR.
Finally, UIDAI's CIDR will check if the face biometric pattern of an exerciser matches with the database.
Confirming his/her authenticity, a YES/NO response will be sent back instantly to the system.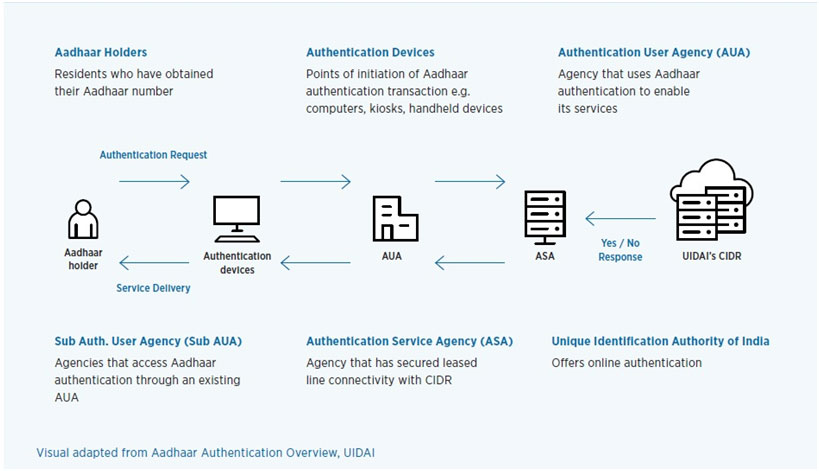 UIDAI's circular dated 15th January 2018 depicts, "Since every Aadhaar card holders/citizens face photograph already exists in UIDAI's database, it eliminates the need for capturing new data reference for UIDAI's CIDR."
Moreover, state-of-the-art face biometrics utilizes sophisticated mechanisms to accurately identify people with normal facial changes like growing/shaving beard, ageing, change in hairstyle, etc.
---
Which services require an Aadhaar facial recognition?
UIDAI's face recognition project to take the Aadhaar-based biometric authentication/verification up by a notch aims to ensure transparency and efficiency in delivering various services to beneficiaries/consumers. The prominent services include:
Lending out SIM cards to novel users by Telecom Service Providers (TSP),
Public Distribution System (PDS) for beneficiaries' identification,
Aadhaar authentication/verification at banks, and
Office attendance systems at Govt. establishments
The UIDAI CEO, Mr. Ajay Bhushan Pandey in August 2018, said - "Facial biometrics is a powerful biometric technology that offers enhanced security. When a 10% hit in transactional authentication is seen utilizing face biometrics, the potential flaws in the process/system will be reviewed to make it flawless. Henceforth, we will apply it to the telecom industry for lending out SIM cards to users.
---
What Aadhaar-based face authentication will bring?
Linking Aadhaar-based face identification/authentication comes with several benefits to the customers or beneficiaries such as:
Face authentication will act as an extra authentication factor, making Aadhaar authentication process more inclusive for citizenry having trouble with fingerprint/IRIS capture.
Face authentication with liveness detection functionality will offer increased security.
It is highly accurate and the authentication takes less than a second.
The contactless face recognition offers convenience and greater security to beneficiaries/consumers.
Helps in securing the Aadhaar system from frauds and prevent security breaches.
Eliminate middlemen from the system.