Biometrics for mid-day meal distribution in government schools
Biometric technology emerges as a reliable, robust, and efficient solution for transparent & efficient monitoring of the mid-day meal (MDM) schemes/programs in the educational institution around the globe.
Mid-day meals in schools play a vital role in India as it is one of the most beneficial social policies, serving the nation's overarching goals like adequate child nutrition, increased student enrollment, regular attendance, improved educational outcomes, and so on.
---
What are the pressing problems in mid-day meal (MDM) distribution?
Some of the shortcomings impeding the efficient enforcement of MDMs in government-funded schools & other local bodies in India are: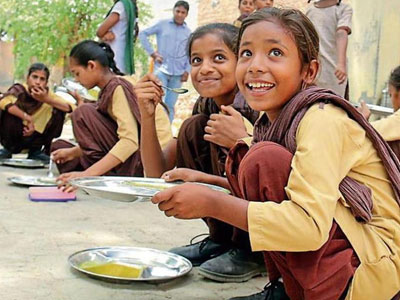 Lack of mechanism to effectively implement a mid-day meal program.
Schools presenting fake student attendance reports against the allocated MDMs.
The same child appearing in multiple government-led schools to receive entitlements.
Improper monitoring of food consumption leads schools to run out of rations.
The school authorities reporting unreasonably high student enrollment for siphoning off funds under the program.
Not every school kid is entitled to get benefits under mid-day meal scheme/program. But the students of the government-funded primary schools, EGS, upper primary schools, local body, NCPL schools, and AIE centers are eligible for availing mid-day meals.
This shortcoming of identifying an entitled school child along with the above-mentioned issues signified a need for an efficient and reliable mechanism for enacting the MDM scheme.
---
How biometrics can streamline the mid-day meal distribution?
A simple utilization of the next-generation biometric technology streamlines the process of distributing mid-day meals in schools by uniquely identifying each schoolchild using his or her fingerprint/IRIS impression.
In India, the use of Aadhaar-based biometrics for the distribution of MDMs simplifies the entire meal allocation process, enabling the deserving child beneficiary to receive his/her share of meals seamlessly.
Utilizing biometric devices, the Govt. can also get a precise number of children receiving mid-day meals in all states/UTs, eliminating bogus attendance reporting.

The state-of-the-art biometric technology assists in bringing effectiveness & transparency in MDM programs, allowing an individual to watch the daily MDM served status in all 17 states. You can view the daily state-wise mid-day meal reports, through this link: https://mdmhp.nic.in/Home/StateWiseSummary/HP
---
Implementation of biometrics in Government-led schools
In light of the recent advancement in technology and the proliferation of Aadhaar-enabled biometric devices, MDM programs have attained tremendous success in India.
As per the HRD Ministry's 2018 survey report, around 92% of Govt. school children are effectively availing mid-day meals, whereas 80% of surveyed parents agreed that the MDM program has greatly helped government-funded schools to enhance student's attendance.
Recently, in September 2019, more than 83,000 government-funded schools in Maharashtra planned to implement the next-generation biometric scanner devices to weed out mid-day meal malpractices like fake attendance/enrollment reports against the meals allocated to the students.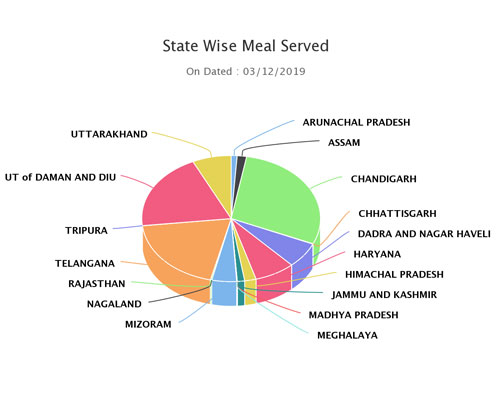 ---
Impact of Aadhaar-based biometric identification
In the year 2017, the Aadhaar-based biometric student identification method helped three states namely Manipur, Andhra Pradesh (AP), and Jharkhand to strike-off 4.4 lakh non-existence school children from Govt. schools claiming additional fund from MDM scheme allocation.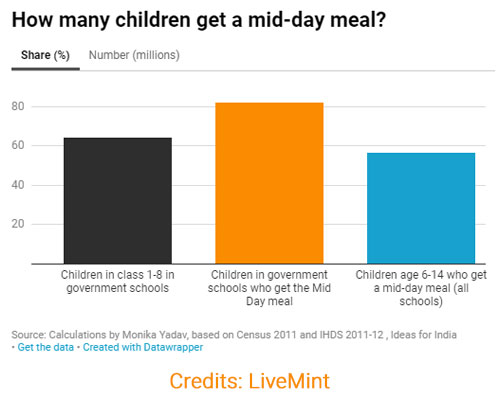 As many as 13.16 Crore students got enrolled in around 11.5 lakh schools nationwide in the year 2015-16, out of which nearly 10.03 Crore school children got mid-day meals.
Currently, the budget sanctioned for the MDM program to all 17 states for the year 2019-2020 is Rs. 11,000 Crore, whereas the current cost per child/day for a primary school kid is Rs. 4.48 and for the upper primary is Rs. 6.71.
---
What reforms does Biometrics bring in mid-day meal programs?
Enhanced student enrollment, attendance, and retention rates
Only entitled school children receive the benefits of the MDM scheme
Eradicates the fake attendance & proxy enrollment of students.
Brings transparency, productivity, & accountability
Fund Efficient and accurate fund utilization traceability.